Unless you live under a rock, you have probably heard of Shein
So.. you may have heard. Shein owned by the Zoetop Business Co. has risen in popularity among Gen Z and Millennials. The fast fashion retailer is known for extremely cheap clothing and jumping on fashion trends at alarmingly fast rates. "Shein hauls" have become increasingly popular on TikTok and Instagram, influencers boasting about 50+ articles of clothing from one shopping spree. This results in waste colonialism, which is a massive problem.
In 2020, Shein made nearly $10 billion dollars… and now according to Bloomberg, Shein's valuation is upwards of $100 billion dollars due to the recent funding round. This puts it at the third most valuable startup in the WORLD.
Dig in a little deeper, and you will start to wonder how the company profitably sells most clothing items under $5. How can an article of clothing be cheaper than a cup of coffee? Human and planet exploitation. No stranger to controversy, in 2020 the brand was accused of selling offensive items, one of them being a necklace in the shape of a swastika. SHEIN has also been accused of stealing designs from small independent labels, creating low-quality copies for 1/10th of the price.
Shein is an environmental nightmare
Shein is an environmental nightmare. Shein has churned out 314,877 new styles in the last year with thousands added every day. The next closest rival is Boohoo, with 18,343 new styles YTD, not even coming close to the level of waste that Shein produces.
Source: Statistica
The fast fashion industry is the second most polluting industry, topped only by the oil and gas industry. Fast fashion is responsible for 20% of global wastewater and 10% of carbon emissions. The amount of water and energy necessary to produce millions of pieces a year is unquestionably high. Even if Shein wholeheartedly attempted to reduce waste and energy consumption, it's impossible to be sustainable with such a high production rate. In other words, Shein is and always will be unsustainable. Not to mention, many of their fabrics create microplastics.
..and Sheins child labor practices aren't any better
So, what are sustainable alternatives to Shein?
We recognize that sustainable brands aren't accessible to everyone. It is important to note that the nature of how you intend to use clothes also determines how sustainable the purchase is. If you are able to make an article of clothing from Shein last 5+ years – that IS sustainable. The issue comes when the cheaply made items breakdown. When evaluating purchasing decisions, I like to think of the cost per wear. A high-quality, more expensive item that lasts for years in the long run will cost you less per wear. Check out our selection below of the best sustainable alternatives to Shein that make similar stylish garments under much higher standards.
Buy Shein Items Second-hand
If you see something from Shein or another fast fashion retailed that you NEED to have – you can always find the piece second-hand. Anytime I visit my local thrift shop, because of the excessive buying nature of Shein, I always find Shein second hand items on the rack. Not to mention, you can use second-hand shopping apps to search specifically for the piece you are looking for. My favorites are Poshmark and Depop.
Rent your Clothing
Clothing rental companies like Nuuly and Rent the Runway are perfect if you like to switch up your wardrobe often but you don't want to cause the excessive waste. They let you pick 5-7 clothes every month or couple of months to rent and then return (if you love it, you can buy it.) The clothes are normally higher quality, from expensive (and super cute) brands.
100% of For Days products are recyclable. They plan and design for the end of a product's life at the beginning to make sure what is returned can go into future products. They have a program where they will even take back your old clothes that aren't For Days!
To help their customers make sustainable choices, they tell them how, where and with what footprint their products are made. They have everything from shoes to sportswear to swimwear.
We did the hard work, so you don't have to. All Made Trade products are independently verified and vetted for sustainable sourcing and fair labor practices.
Reformation is a clothing brand that makes sustainable and fashionable clothes similar to SHEIN but of much higher quality. It offers a collection of stylish garments for petite up to extended sizes.
Reformation uses sustainable materials such as organic cotton, recycled cotton, linen, and Tencel lyocell. It also makes some of its clothes with upcycled and recycled materials, such as regenerated nylon or deadstock fabrics.
Canadian brand Frankie Collective is dedicated to innovating women's streetwear while setting a standard for sustainability in the fashion industry. It takes inspiration from 90's staples and reworks vintage garments to push the boundaries of contemporary style. Find most items in sizes XS to 2XL.
Whimsy + Row is an eco-conscious lifestyle brand born out of a love for quality goods and sustainable practices. Since 2014, its mission has been to provide ease and elegance for the modern woman. Whimsy + Row utilizes deadstock fabric, and by limiting each garment to short runs, the brand also reduces packaging waste and takes care of precious water resources.
Born in Byron Bay, Afends is a responsible brand leading the way in hemp fashion. Drawing inspiration from the environment, streetwear, and surf culture, Afends' mission is to create more sustainable clothing through innovation, action, and positive change.
CHNGE is a US-based sustainable fashion brand using 100% organic material, built to last a lifetime while making a statement.
MUD Jeans makes high quality, sustainable jeans. Recycling every single pair after use. Explore our circular denim collection.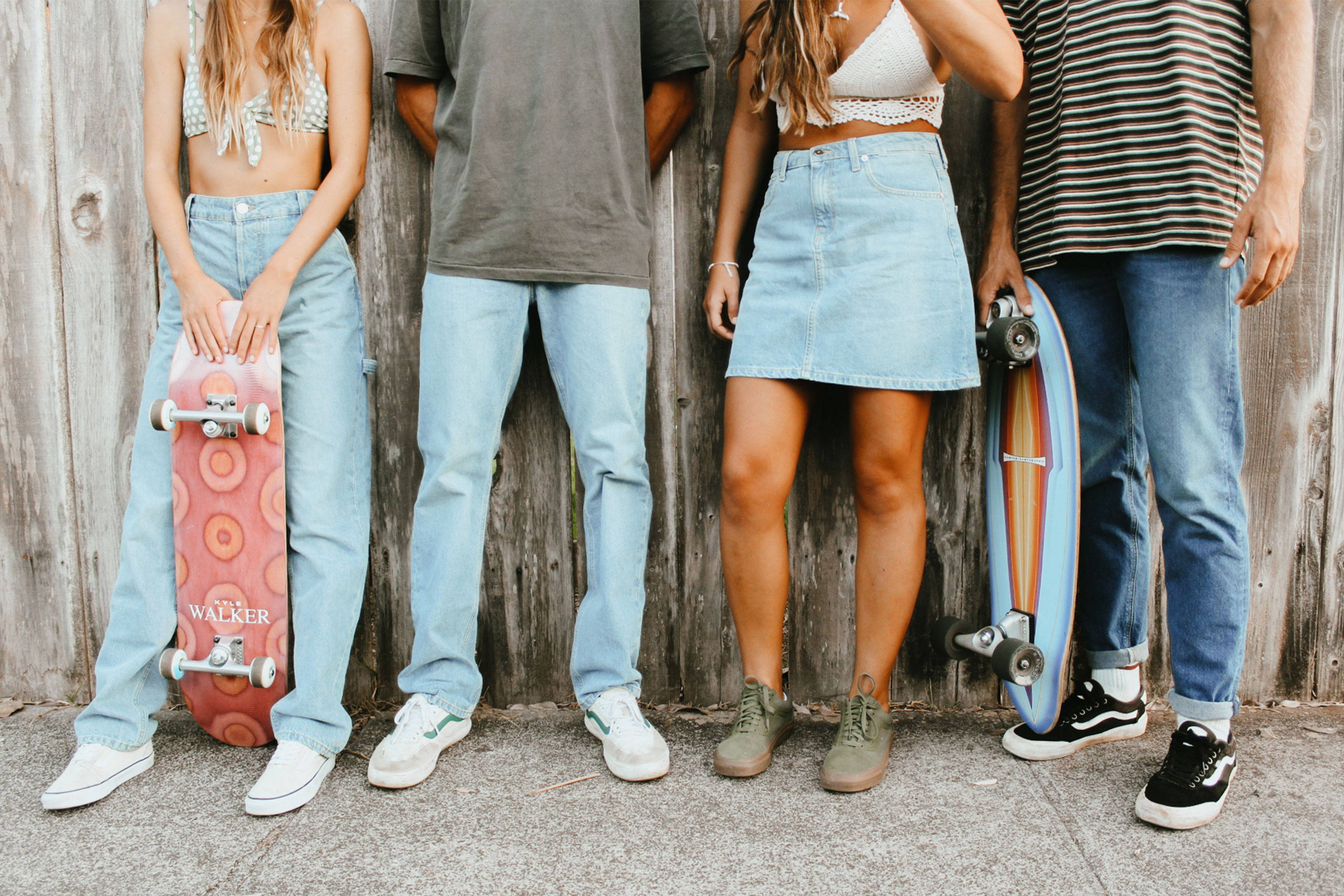 Tentree creates clothing designed for a healthy, sustainable world. Made with hemp, cork & organic cotton. They plant 10 trees for every item purchases and have planted 50+ million so far.
Girlfriend Collective makes high quality clothes from recycled materials in sizes XXS-6XL. They believe where your clothes end up is just as important as where they come from, so they gladly recycle most old Girlfriend Collective pieces and turn them into future clothes.
Chain featuring stylish apparel, including denim jeans, plus accessories, shoes & bags.

Find other sustainable swaps on the

Ripplfect Mobile App

and get points for your sustainable purchases, track your impact and more!

Download the Ripplfect Mobile App today.

Also, Join our Newsletter to get swaps like this delivered straight to your inbox!